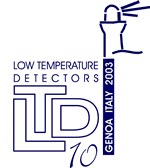 10th International Workshop on Low Temperature Detectors

July 7-11, 2003
Magazzini del Cotone
Genoa, Italy

Registration can be done on-line directly by filling the form bellow or by fax. Those who chose to send by fax, please print the form,
fill and fax it to the LTD-10 Secretariat (Fax. +39010313358).
Cancellation policy
Written confirmation of your cancellation should be sent to LTD 10 Secretariat. If you cancel your reservation after 10 June 2003, we will charge a € 150.00 administration fee per registration. The date on which LTD 10 Secretariat receives your written confirmation of cancellation will be considered the date of cancellation. Reimbursements will be dealt with after the workshop.