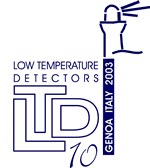 Instructions for Abstract Submission
Enter the presenting author name and email.
Please indicate the Session with which you want your abstract to be associated. This applies whether or not it will be an oral presentation.
Indicate your preference for an oral or poster presentation. The programme committee will note your preference, but cannot guarantee your preferred presentation option.
Please title your abstract in capitals.
Enter author names in the order in which they should appear in the printed proceedings.
If an author affiliation is the same as a previous author, you do not have to enter the affiliation information again, simply itemise.
Abstract contributions should be 200-250 words in length.
Enter the abstract text by typing or pasting plain text; you may use TeX codes for special characters. If you use LaTeX we recommend previewing your text on LaTeX (instructions for mathematical symbols) before submitting your abstract.